#10: I think I should preface this by saying in no way should any of these apps be used without therapy. These are not ways to diagnose or treat alone, but in conjunction with mental health professionals.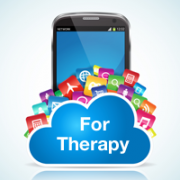 https://www.codetherapyfilm.com/
Code therapy is a 15 minute documentary that discusses depression. Discussing that depression is the second largest cause of disability in the world and then discussing apps that can be used to help those who are suffering from depression.
http://www.psychiatryadvisor.com/top-10-mental-health-apps/slideshow/2608/ . The top 10 mental health apps that are discussed during the podcast. Kat talks about her use of Breath 2 Relax and its use of diaphragmatic breathing (breathing into the belly as opposed to the chest) . Many of the other apps that are on the list express that they should be used with the help of a mental health professional, and Talkspace; an app that is supposed to make therapy more accessible, has even posted that they are not to be as a substitute for in person therapy.
On psych tech Josúe and Kelly discuss Woebot a CBT AI that runs with facebook messenger. I am not going to discuss it I'm just going to leave this link right here for you to listen to it when you can. https://www.psychtechpodcast.com/?powerpress_pinw=338-podcast
Podcast: Play in new window | Download
Subscribe: Google Podcasts | Email | TuneIn | RSS