#15: Hey we got a new logo!!!!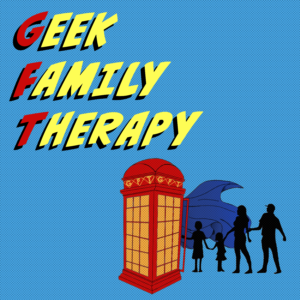 Quick apology to begin with there might be some banging in the background, we did get rid of most of it but there is still some, I hope you can bear with us, during the episode.
So we had a lot of plans that fell through. But we did get to see some movies, of course we both saw Thor: Ragnarok, but Kat did not see Justice League, and Lea refuses to see The Last Jedi. She refuses to see any Star Wars movies.
There has been a lot of high power people who have been in the news lately due to sexual abuse allegations; one of them being a singer Melanie Martinez who was accused of raping her friend. We begin discussing the impact it has had on fans, as well as the importance of talking to younger fans about this before they read it on facebook or see it on youtube.
We get to discuss some of what we liked in each movie, as well as some of the familial aspects of the movies.
Happy Holidays from Geek Family Therapy and Happy New Year
Podcast: Play in new window | Download
Subscribe: Google Podcasts | Email | TuneIn | RSS